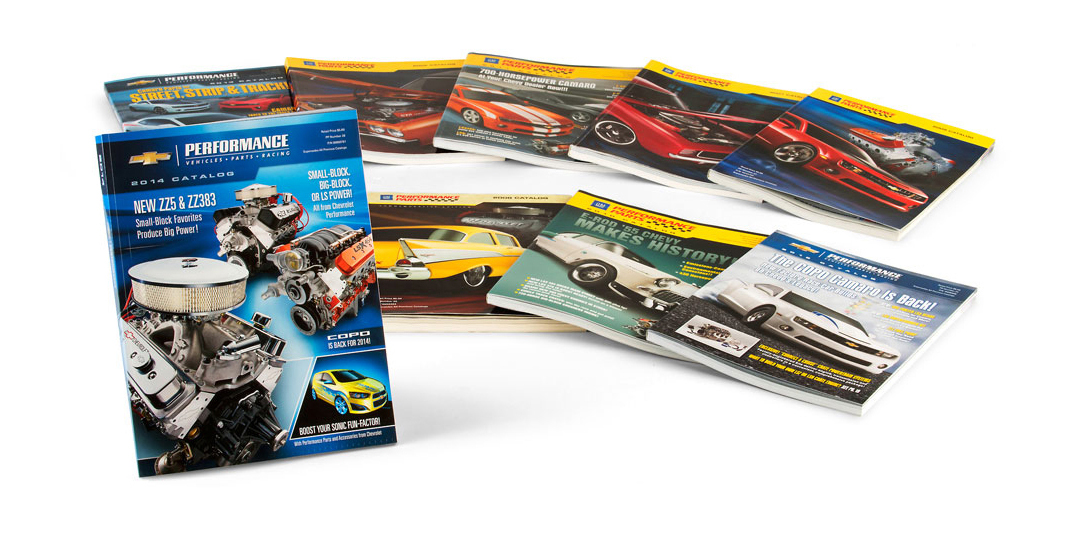 Chevy Performance Parts Catalog
For over 15 years now, we have produced one of the most innovative and recognized catalogs in the automotive performance aftermarket. Through high-end photography, cutting-edge design, targeted copywriting and expert technical advice, the Chevrolet Performance Catalog has been instrumental in developing a brand that has helped position Chevrolet Performance as the "ultimate authority" in performance automotive products. This award-winning publication has become the benchmark of the industry and has been often imitated by competitors.
We Provided:
Brand Strategy Development
Project Management
Graphic Design & Art Production
Art Direction
Photography
Retouching
Asset Management & Distribution
Copywriting
Copy Editing
Proofreading
Print Coordination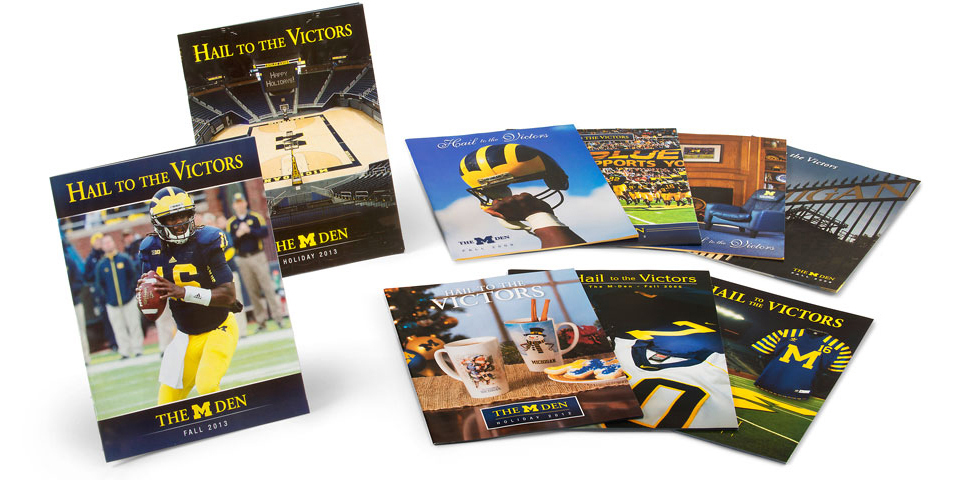 The M Den Print Catalog
Each year The M Den publishes a catalog displaying new and popular products to put in the hands of customers at peak points in the year. In addition to the printed catalog, we also created an interactive electronic catalog to link from The M Den website in order for customers to view it digitally on desktops, tablets and mobile devices.
We Provided:
Graphic Design
Art Production
Project Management
Image Retouching
Print & Mailing Coordination
Model Casting
Location Scouting
Photography
Customer Service
Copywriting
Proofreading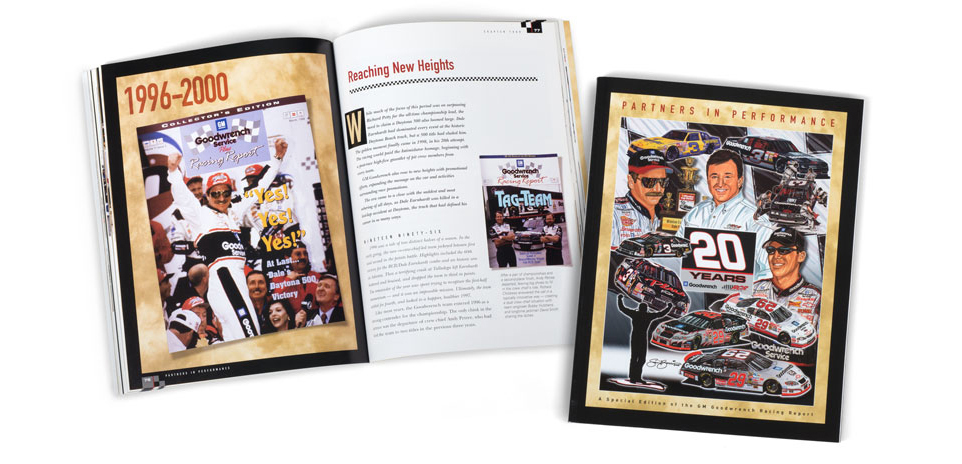 GM Goodwrench 20 Year Commemorative Book
Our client needed to maximize the return on their investment in racing. To do this, we created a monthly magazine that bridged the success of the racing team back to the dealerships (Goodwrench and AC Delco Racing reports). As milestones were reached, we celebrated them with special edition coffee table books for collectors and fans.
We Provided:
Editorial Direction & Planning
Graphic Design
Art Production
Project Management
Image Retouching
Print & Mailing Coordination
Photography
Customer Service
Copywriting & Proofreading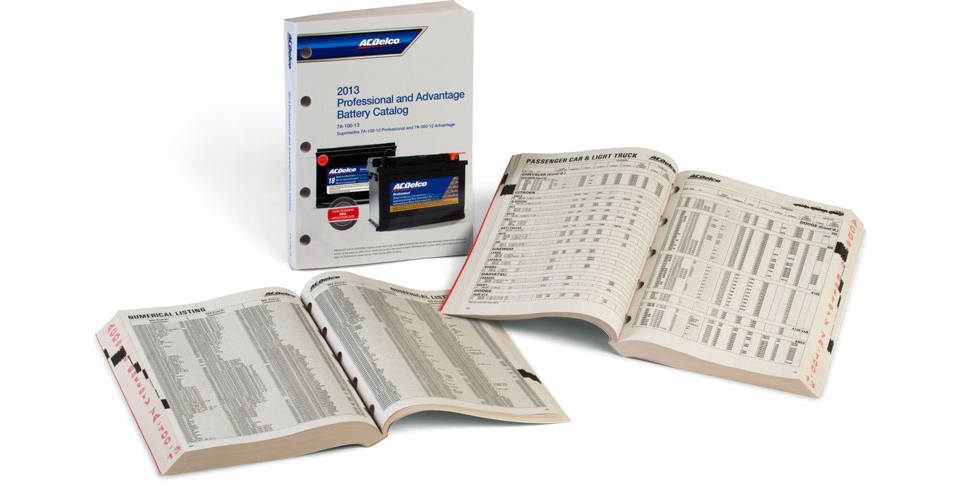 ACDelco Battery Catalog
ACDelco needed to produce a catalog that included application data for every battery they produce. Because they create these catalogs yearly, we decided to develop flexible templates for each section of the catalog and then connected those templates to a database. When the catalog needs updates, a new database can be used with the existing templates.
We Provided:
Data Management
Page Template Development
Art Production
Printing & Mailing Coordination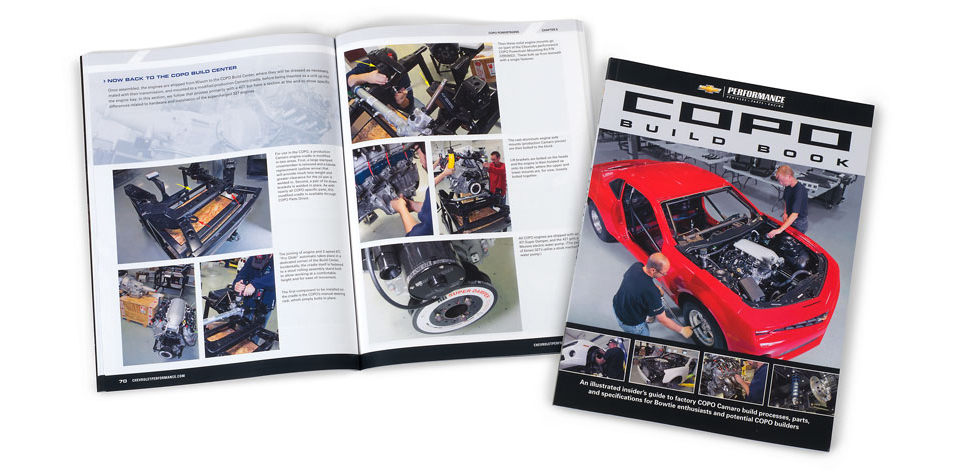 COPO Build Book
Our client required a custom publication to document their groundbreaking new COPO Camaro program. A quick turnaround and small production quantities offered a unique set of challenges, but we were able to deliver this 132-page, commemorative piece on time and within budget.
We Provided:
Graphic Design & Art Production
Photo Editing & Retouching
Copy Editing
Print Coordination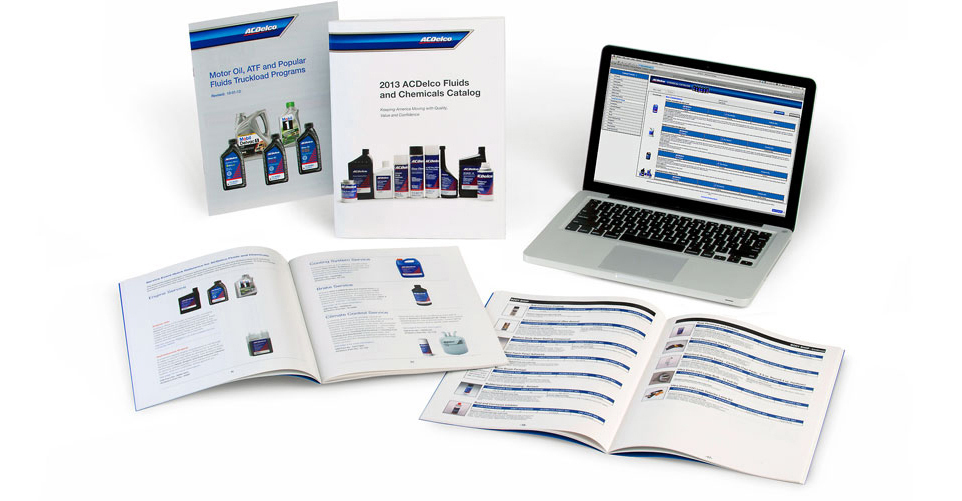 ACDelco Chemical Catalog
ACDelco needed to produce both a print and web catalog that included all of the details on their vehicle fluids and chemicals. We formatted their data, cleaned up photographs and developed a template for the print catalog. Using this approach, we were able to develop both print and web versions of the catalog from the same data set.
We Provided:
Data Management
Page Template Development
Web Development
Art Production
Printing & Mailing Coordination